Friday 14th October 2022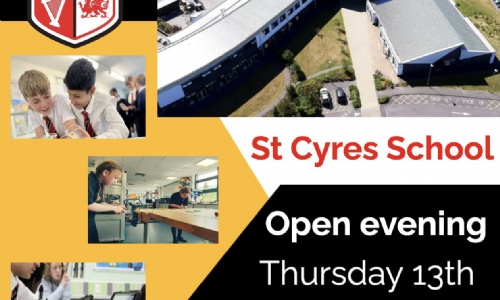 Last evening saw a return after a 3 year period of our annual Open Evening and it was absolutely fantastic to be able to welcome over 700 people into the school and to show off our amazing schools and its facilities.
I was very pleased to be able to address prospective parents and pupils and give them more information about our school. I was also very proud of our 4 students who also addressed the audience with me and they were Noa from Year 7, Sahra from Year 11 and then our Head Girl Lucia and Deputy Headboy Dylan. Each was able to speak of their experiences of being a member of the St Cyres Community.
Visitors were also able to tour our amazing facilities and to meet all of our teachers and many of our students who volunteered to help us for this event, and I am very grateful for the very large numbers of pupils who helped and supported this important event.
Today, we have had an opportunity to work as a whole staff as part of our Inset Day programme where we have been developing our approach to Curriculum for Wales.