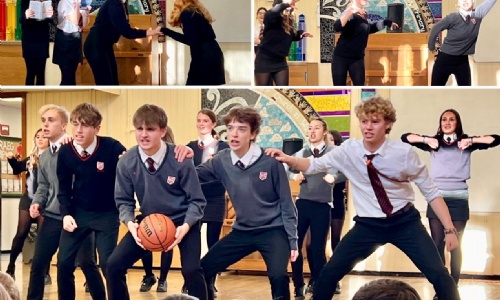 November 2023
Published 29/11/23, by Peter Lewis
For a some of our older pupils in the school, examinations have dominated November. A number of Year 11 pupils have been sitting GCSE Maths and GCSE Numeracy examinations, the results of which will be available in January from the WJEC. There have also been a number of internal examinations with all of our Year 10 pupils having sat their English Literature mock exam in readiness for the external exam in January. Year 10 pupils have also been undertaking Science practical exams this month.
Building on the work that we are doing with our parent community, as mentioned in last month's blog, I am very grateful to the team of Year 7 and Year 8 parents who engaged in our first focus group this month. The particular focus of this session was assessment and feedback as part of the new curriculum and there was a very useful discussion along with some great suggestions which will be implemented by the school. Again, thanks to all the parents who were involved in this. Please look out for information on our next focus group which will meet in February where our Deputy Headteacher Mr Bruton will be shining a light on the new curriculum.
We have also been busy recruiting staff throughout November. St Cyres School continues to attract high quality candidates for advertised posts and I am pleased to report that we have now appointed a fulltime Welsh teacher until August 2024, a part-time permanent teacher of Religion, Value and Ethics who will start at the school in January 2024, and a part-time Receptionist and Admin Assistant who starts with us this week. Congratulations to the 3 successful candidates and we very much look forward to working with you.
Finally, for November, we have been 'on the road' with our Performing Arts Roadshow, visiting a number of Primary Schools in the area. This has been a great success and our pupils have had very positive feedback from working with primary pupils. It was great to see our 6th Formers leading these sessions with such energy and enthusiasm.
Read More