Friday 23rd December 2022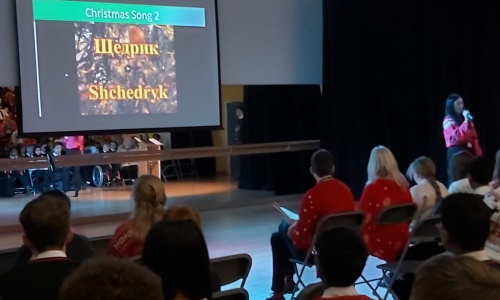 Today marks the end of what has been a very busy term and, as the pupils left with great excitement this afternoon, we reflect on what has been achieved. In particular, I have spoken to many Year 7 pupils in the dining room this week about their first term at St Cyres and it was lovely to hear how well they have settled in and feel very much part of the St Cyres community.
It has also been a busy week as we have been able to bring back some of our traditional Christmas celebrations after a gap caused by Covid. Our Christmas assembly for Year 7 and Year 8 was a great opportunity to focus on how Christmas is celebrated around the world and was led by Miss Jones (Head of Year 7) and Mr Flynn (Head of Year 8). Both were in fine voice on the microphone as they led the singing! There were also some amazing soloist and group musical items which were enjoyed by all.
Another great Christmas tradition of ours has been the German Christmas Market and Mrs Owens (Head of International Languages) put on a spectacular event to raise money for the very important charity Latch. As well as the Christmas Market, Mrs Owens also spoke to children in our assemblies this week about the important charity work that Latch do, and how they have supported a number of our pupils and their families. We are delighted to support this charity and delighted that we have raised over £1100 through the efforts of our pupils and staff. With the help of our Head Girl, Head Boy and their deputies, one of our Year 10 pupils has been working on another charity event to raise money for Latch so more information will follow on that in the new year.
My final thought as we end the term, and as we end 2022, is to say a very special thank you to our parents for your continued support. I have had lots of messages from many of you, both in writing and when we have had an opportunity to meet at the various school events and I always enjoy catching up with you and sharing ideas. There will be further opportunities to meet in the new year with 'Matilda – The Musical' and the forthcoming parents' evenings so please do not hesitate to catch up with me and I look forward to chatting with you.
I wish you all a very happy Christmas and new year.
Please enter some content for your blog post here.