Friday 27th January 2023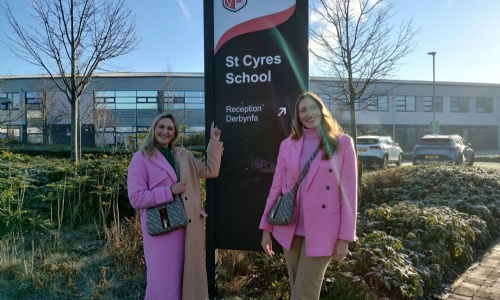 This week's blog is a shout out to some of our amazing former students who continue to support the work of St Cyres School.
What a week it has been in the arts as four 6th Formers have audition for the National Youth Theatre of Wales. The audition involved pupils taking part in a workshop with professionals and then performing a prepared monologue to a panel. They were then expected to be able to improvise their monologue further based on observation and direction from the panel. The 6th Formers involved were Skylar Smalley, Olivia Winter, Nathan Jones and Tom Murray. What was really lovely about this particular audition is that one of our former pupils Mason Edwards was one of the professionals who worked with the NYTW and met our students there.
On the subject of former pupils, Year 8 pupils were treated to a fantastic presentation by former students Sophie and Hannah who run the very successful company Spectrum Brushes. Sophie and Hannah were able to give Year 8 pupils guidance and advice around choosing options, as well as general advice about running a business and the importance of entrepreneurial skills. Thank you to Sophie and Hannah for taking time to do this and I know this was very well received by the pupils. It was great to welcome you back to St Cyres School!