Friday 3rd February 2023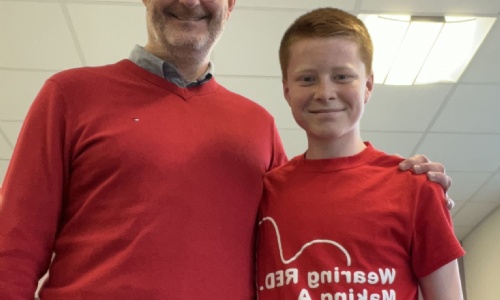 Well what a week we have had! As well as the usual day-to-day school activities, there are 2 events of note that stand out.
Firstly, we have had 2 magnificent performances of Matilda on Wednesday and Thursday nights this week, and I pay tribute to all pupils involved. As I wrote in my programme notes, these are lifelong memories being created and it was great to see a cast and crew of almost 100 pupils working together to put on this marvellous show. We witnessed pupils from Year 7 to Year 13 singing, dancing and acting to the very highest of standard, and this was a culmination of many months work. I would also pay tribute to the staff who made this possible, and for giving our pupils this amazing opportunity.
Today, we have been supporting 'Wear Red for Velindre' with a non-uniform day and tuckshop to raise money for this very important cause. This event has been organised by one of our Year 9 pupils Niall who, in his spare time, is a young ambassador for Velindre Cancer Centre and has been part of a team that has raised many tens of thousands of pounds. As well as organising this fund-raising event for our school, Niall had also prepared a presentation for all of our Form Teachers to show to their classes this morning outlining the very important work of Velindre hospital, as well as how important this fundraising is to their work. Niall has done a fantastic job today and we are very proud of his commitment, dedication and organisational skills – well done young man!