September 2023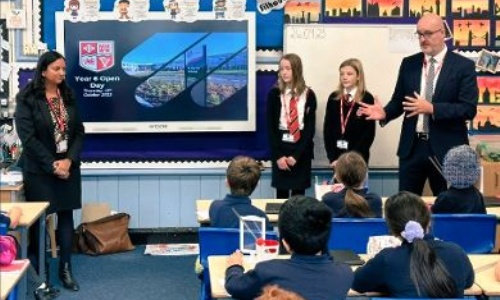 September is always a time for fresh starts. As well as welcoming 210 new Year 7 pupils into our St Cyres community, all of our other pupils progress to the next stage of their education with pupils progressing through to their GCSE and A Level studies. It has been lovely to see pupils and staff return to school after a busy summer holidays, full of enthusiasm for what is ahead.
I am pleased to report that our Year 7 pupils have settled into school life remarkably well. As well as our usual transition activities early in the new term, we also welcomed Year 7 pupils and parents to an evening where we presented our approach to teaching and learning through the use of digital technologies. As well as presentations on safeguarding, parental engagement and other important Year 7 information, pupils were also issued with their school iPads which have been used in earnest ever since. We also invited Year 7 parents to the school at the end of September for coffee and cake and to meet staff and other parents. It was lovely to see so many in attendance and a great opportunity to build community which is so important in school life.
We have also held a number of other parent community events during September with an information evening for pupils joining us in our 6th Form in Year 12 and a parents' evening for pupils in Year 11 which was very well attended and a very positive evening.
As well as community events within the school, Miss Hirani and I have also been on something of a roadshow around many of the primary schools in the area this month, talking to Year 6 pupils about moving to Year 7 in St Cyres School next September. We have had a lovely welcome in all of the schools we have visited, and some fabulous questions that have been asked by the Year 6 pupils.
Finally, it is also appropriate to reflect on this summer's examination results and I am delighted with the achievement of all of last year's Year 11 and Year 13 pupils. Both year groups achieved the best results that the school has ever achieved and we are very proud of them. There has been a huge and sustained improvement in external examination results over the last 4 years in all indicators and the school continues to go from strength to strength in all areas, thanks to the support and dedication of all staff, strong support from parents, and the commitment and hard work of our pupils.