Curriculum
Curriculum Overview
St Cyres School provides a curriculum that is broad and balanced, which celebrates the specialism of subjects and encourages learners to explore the natural links that occur within and across all areas of learning. The term 'curriculum' covers everything that is taught and learnt in school, and classroom learning is supported by a broad range of enrichment activities. Our core values reflect our mission statement:
Strive Together Challenge Yourself Realise Everyone can Succeed
These values, such as the quality of relationships, the promotion of diversity, inclusion and equality of opportunity, high expectations and the way the school is organised, produce our school's unique ethos.
The school's curriculum fulfils the requirements of the Learning and skills (Wales) Measure 2009 at key stage 3 and 4.
Key Stage 3
At Key Stage 3 (KS3) the school curriculum consists of:
Core subjects – English, Mathematics, Science,
Non-core subjects – Art, Design and Technology, Geography, History, ICT, Modern Foreign Language, Music, Physical Education, Performing Arts and Welsh Second Language
Religious Education
Personal & Social Education which includes sex education and Careers and the World of Work
Pupils in Year 7 and 8 will study either French or German.
14-19 Curriculum
The school complies with the requirements of the Learning and Skills (Wales) Measure 2009 for learners aged 14-19 years, in addition to the National Curriculum (2008) at Key Stage 4.
Key Stage 4
At KS4 the school curriculum consists of:
Compulsory subjects – English, Mathematics, Science, Religious Studies Physical Education and Welsh second language,
PSE (including sex education), Careers and the World of Work and Wales, Europe and the World.
Wide choice and flexibility which will be provided through the wide range of general and practical/vocational subjects that are on offer in school and in partnership with other providers
Opportunities to develop skills and engage in different experiences which will be provided through the Welsh Baccalaureate Diploma and other opportunities such as the Duke of Edinburgh Award Scheme.
Learner support will be provided through:
a Learning Coach
personal support for those who may have additional learning needs
careers advice and guidance from our independent Careers Wales Advisor.
In Year 9, pupils have the opportunity to choose four subjects which they will study together with English (Language and Literature), Mathematics, Science, Welsh, Religious Education, Physical Education and the Welsh Baccalaureate.
Post-16 Education
All students will be:
studying 4 subjects/courses from a broad range at AS and later 3 or 4 subjects at A Level leading to external qualifications.
The Welsh Baccalaureate Qualification (WBQ)
Curriculum for Wales
In September 2022, all primary schools and some secondary schools will be introducing the new Curriculum for Wales. We have chosen to fully implement the new Curriculum for Wales in September 2023 for both Year 7 and 8. At St Cyres we have engaged with all stakeholders and will continue throughout 2022-23 to trial and evaluate our new curriculum in readiness for 2023 when we will have fully embraced all mandatory elements of the Curriculum and the exciting opportunities it allows.
Our school vision for Curriculum for Wales is to create a curriculum that places learners at its heart and ensures that they are challenged, engaged and successful. We strive together to create ambitious and capable learners, who are enterprising and creative, healthy and confident, ethical and informed individuals. Everyone can succeed at St Cyres.
Curriculum for Wales Map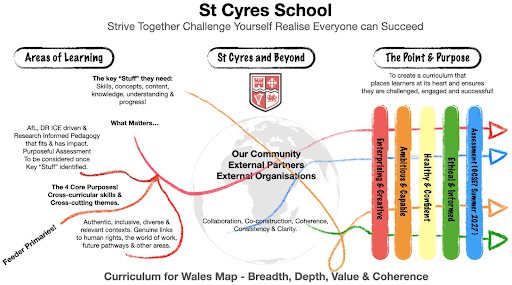 How does the curriculum meet the required elements in the national framework?
At St Cyres we will keep our curriculum under review and will revisit it throughout 2022 and after we adopt the new curriculum in 2023 as we do now. When the curriculum is adopted in September 2023 all mandatory duties placed on us by the Curriculum and Assessment (Wales) Act 2021 will be in place.
These include: -
• enable learners to develop in the way described in the four purposes
• provide for appropriate progression and accord with the principles of progression set out in the 'Progression Code' – which applies to all learning across all AoLEs.
• be suitable for learners of differing ages, abilities and aptitudes
• be broad and balanced
• encompass the concepts set out in the statements of what matters in the 'Statements of What Matters Code'. These will be published in the updated St Cyres School Curriculum Policy 2023.
•provide for learning and teaching that encompasses each of the Areas of Learning and Experience
• Welsh
• English
• Relationships and Sexuality Education (including the detail of the Relationships and Sexuality Code)
• Religion Values and Ethics (RVE)
• The cross-curricular skills (literacy, numeracy and digital competence)
This is only the start of our exciting curriculum journey and we will continue to monitor and evaluate its effectiveness on a termly basis, with the help of learners, staff, parents and governors. An updated summary will highlight progress made and any adaptations required during 2022-23.